Bin Bayyah Statements Underscore Support for Terrorism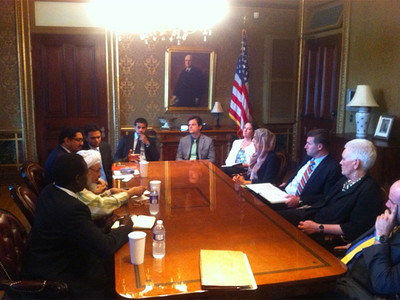 Sheikh Abdullah Bin Bayyah posted this photo of his June 13 White House meeting.
The Investigative Project on Terrorism has uncovered evidence that radical Muslim cleric Sheik Abdullah Bin Bayyah, who
met with
top White House officials last month, personally urged Muslim nations to aid the Palestinian terrorist groups in Gaza militarily.
"Bin Bayyah may be anti-Al Qaida because he is against the targeting of what he defines as civilians. He simply detests 'freelance jihadists' or 'jihadi-anarchists' preferring more ordered Islamist statists within his Salafi circles," Jasser said. "These quotes [about Palestinian terrorists] in essence reveal that he may disagree with the means and authority Al-Qaida may use but in fact the ends of a global neo-Caliphate and Islamist hegemony he clearly promotes.
"Here, he clearly endorses the adoption of all militant causes initiated by what he deems to be legitimate Islamist grievance movements from across the world."
The White House did not respond to repeated IPT requests for comment.
Additionally, the administration has not addressed any questions related to Bin Bayyah's support for Hamas. It has also been silent about criticism of its reaching out to the IUMS in the light of the group's calls for Israel's destruction, and its 2004 call for the killing of U.S. troops in Iraq. Qaradawi, the IUMS's founder, is considered so radical he has been barred from entering the United States.
"The Obama administration sends a strong message whenever they accept or facilitate meetings with foreign leaders or officials," McCaul said in an emailed statement. "The administration's narrative of the terror threat decreasing does not mirror the reality that al Qaeda and Islamist extremism is still a growing threat to the homeland, and the actions of officials in the White House should reflect that reality."
Inviting Bin Bayyah to the White House reveals an ideologically-motivated "tone deafness to what constitutes a radical," Jasser said.
Although Bin Bayyah has stated his opposition to Al-Qaida's tactics for creating a global Caliphate, his writings show that he supports the idea of Muslims being united under a single flag defended by a single army.
"Bin Bayyah here obviously reveals that he not only believes in the dominance of the Islamic state but he thus through citizenship links every Muslim's faith practice to the military obligations of jihad which scholars like him determine," Jasser said. "Where does he differ from Sheik Awlaki? It is not clear. We are to assume that 'scholars' like him will not take Muslims across the planet into a collective war without 'just cause' to 'rescue their fellow Muslims,' 'under one banner' and thus 'unite all resistance movements."
If freedom and democracy on the Middle East was on the White House's agenda when officials met with the cleric, then the administration should take a closer look at his writings, which show that he considers the Western approach to freedom and democracy un-Islamic.
In Bin Bayyah's view, free speech is subject to the limitations imposed by Islamic sharia law – particularly when it comes to speech and "harmful values in the society."
Bin Bayyah rationalizes Palestinian terrorism, criticizes democracy, and supports blasphemy laws and other restrictions on free speech and other basic freedoms. But the White House appears unwilling to criticize or isolate those views. Instead, it ignored his call for Muslim rulers to give military assistance to Palestinian terrorist groups and opened the White House doors to Bin Bayyah and defended his invitation because he said bad things about al-Qaida.