Obama trades 5 worst Taliban terrorists for one US deserter and traitor and lies and lies about it



Obama appeases terrorist state Iran
An influential Republican senator has unleashed a
crushing attack
on the Obama administration and Secretary of State John Kerry's policy on the Iranian nuclear program, comparing it to Britain's appeasement of Nazi Germany in 1938.
"This administration," said Senator Mark Kirk, a top Republican leader, on Thursday, "like Neville Chamberlain, is yielding a large and bloody conflict in the Middle East involving Iranian nuclear weapons, which will now be part of our children's future."
Kirk blasted both the administration's opposition to new sanctions on Iran and Kerry's testimony on Wednesday to Congressional leaders. He called Kerry's testimony "unconvincing" and "anti-Israeli."
The Netanyahu government has often hinted that the current approach to Iran constitutes appeasement, raising comparisons to British prime minister Neville Chamberlain's unilateral decision at the 1938 Munich conference to hand large sections of Czechoslovakia over to Hitler. In exchange, Hitler pledged to give up the rest of his territorial claims in exchange for peace.
Hitler promptly broke his pledge and occupied the country, setting the stage for the invasion of Poland and the outbreak of World War II. Munich is widely considered one of the most craven and disastrous foreign policy decisions in modern history, to the extent that Chamberlain's name has become a byword for appeasement and incompetence.
Email to a friend, Share on Facebo
Obama Supports Syrian Rebel Groups That Pledged Allegiance To Al-Qaeda
and the MB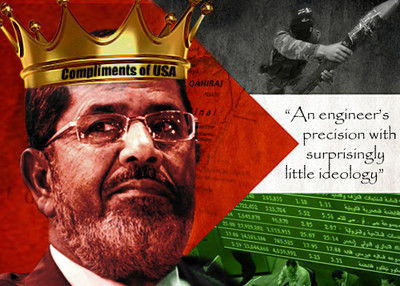 The elected head of a nation made threatening statements toward Israel. His organization called for jihad and celebrated a bus bombing in Tel Aviv.
The United States then hailed Egyptian President Mohammed Morsi as a statesman and a moderate last week.
All of that makes the high praise Morsi received from the Obama administration unnecessary and counterproductive. And the administration's tepid response to Morsi's subsequent power grab – neutering his country's judiciary – fails to make clear whether there will be consequences if he maintains dictatorial power.
The president and his aides must not have been paying attention. Days earlier, Morsi stood in Cairo's al-Azhar mosque and offered unwavering support to Hamas and threatened Israel with violent retribution.
"Let everyone know that the size of Egypt and the capabilities of Egypt, and the people of Egypt have rage, and the leaders of Egypt are enraged at what is hitting Gaza," Morsi said. "The leaders of Egypt are enraged and are moving to prevent the aggression on the people of Palestine in Gaza."
"We in Egypt stand with Gaza," he said. "[W]e are with them in one trench, that he who hits them, hits us; that this blood which flows from their children, it, it is like the blood flowing from the bodies of our children and our sons, may this never happen."
During a Nov. 19 visit to Shifa Hospital in Gaza, Saad Katatni, chairman of Morsi's Freedom and Justice Party and speaker of Egypt's dissolved parliament, continued issuing violent threats of jihad against Israel, saying:
"We are with you in your jihad. We have come here to send a message from here to the Zionist entity, to the Zionist enemy. And we say to them, Egypt is no longer. Egypt is no longer after the revolution a strategic treasure for you. Egypt was and still is a strategic treasury for our brothers in Palestine; a strategic treasure for Gaza; a strategic treasure for all the oppressed."
The Obama administration has yet to criticize the pro-Hamas, pro-jihad rhetoric from Morsi, Katatni and their Brotherhood associates.
During a protest organized by the Brotherhood and its political arm in Al-Qalyubi, preacher Muhammad Ragab called on Muslims "to raise the banner of jihad against the tyrannical, invading and wicked sons of apes and pigs [i.e., the Jews], and to unite against the enemies of Allah."
"The MB thanked Allah for the death of Israelis killed by rockets, and called for jihad against Israel," the MEMRI report says. "The official MB Facebook page reported joyously on the deaths of Israelis. On November 15, 2012, the official MB Facebook page celebrated the death of three Israeli civilians killed by a rocket that hit a house in Kiryat Malakhi: 'Allah akbar and praise to god, three Zionists were killed and five others were injured in a blast at a three-story building in Kiryat Malakhi from resistance rockets.'"
State Department spokeswoman Victoria Nuland ducked the issue of violent rhetoric from Morsi and the Brotherhood when a reporter raised it in a Nov. 16 press briefing.
The Muslim Brotherhood's hostile rhetoric against Israel continued on Nov. 22 after the cease-fire was reached. Supreme Guide Dr. Mohamed Badie—considered by Middle East intelligence sources to be the real power broker behind Morsi— issued a statement describing jihad against the Jewish state as "a personal obligation for all Muslims."
"Palestine and Jerusalem is a holy Muslim land, part of the faith of the Muslim ummah," Badie continued. "To forsake any part of it is to forsake the ummah's civilization and faith. This is a great sin."
The Muslim Brotherhood leader continued, saying that the Jews should not "establish a state for themselves" and should be content living as a minority in other nations.
"The enemy knows nothing but the language of force," Badie said. "Be aware of the game of grand deception with which they depict peace accords."
"I want to thank President Morsi for his personal leadership to de-escalate the situation in Gaza and end the violence. This is a critical moment for the region," Clinton said during a Nov. 21 joint press conference in Cairo with Egyptian Foreign Minister Mohamed Kamel Amr. "Egypt's new government is assuming the responsibility and leadership that has long made this country a cornerstone of regional stability and peace."
"We are concerned about it and have raised those concerns," Carney said.
Egypt's pro-democracy groups also have called on President Obama to condemn Morsi's decree, but their pleas fell on deaf ears.
As a leading Muslim Brotherhood member of Egypt's parliament, Morsi wrote a Sept. 23, 2003 letter to Hamas leader Ismail Haniyeh thanking God for his survival and declaring his solidarity with Hamas' goal of destroying Israel.
In April 2004, Morsi actually led efforts in the Egyptian parliament to scrap the peace treaty with Israel.
The list goes on and on. Morsi delivered a brief respite in the rocket fire from Gaza toward Israeli civilians. That's a good thing. But pretending this one act somehow transforms him into a statesman, or a reliable international mediator is not. It's reckless.